AMAZING! Moving. Humbling. Unforgettable.

Today was a day that I will hold in my heart forever.
Bertrand could tell he was being spoiled. :)
Rare Disease Day was embraced by everyone at Ensign Elementary, Bertrand's school! Participation was optional, but you would've never known that based from the outpouring of support.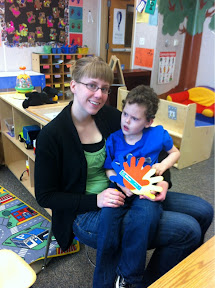 Bertrand got extra love from Miss Heather.
The hallways were flooded with kids wearing JEANS for GENES.
Over 400 denim ribbons courtesy of the RARE Project were distributed by 9am.
At noon the student body held up their right hands in recognition of rare disease.
Optional donations were collected for the genome sequencing facility at the Univ. of Utah.
A TV news station (KSL5) filmed and newspaper reporter interviewed us.
Crafts were made for rare disease patients being seen at the medical genetics department.
And the most awesome of all: a giant denim chain of links, made by each Ensign student inscribed with messages of love and hope for Bertrand, was presented to him by the principal and the student body. (Yes, I bawled on my way to the car.) It is the most perfect and wonderful craft ever!
There are about 350 links. Every message is different, but some include: "I love you!", "I will pray for you every night", "My grandpa has a rare disease", "We can play together", and "Smile!" I think I will read a few links everyday, or maybe save them for when times get tough.
Victoria also spread rare disease awareness.
We are so fortunate to live in a community that values our beautiful boy for the wonderful person he is and committed to make the world a better place for others!
We love you, Ensign Elementary!